SHOP BY SIZE for DIAMANTE BRAND LEAD FREE MACHINE CUT CRYSTAL RHINESTONES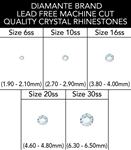 New Freight Policy:
FREE SHIPPING!
ON ORDERS OVER $75.00
Via USPS Priority Mail and
$10.00 shipping on
all other orders!
USA delivery addresses only.

All Rhinestones are available in multiple size packages.
Choose the larger pack for substantial savings!